18ngt Norway Intensive & Svalbard Voyage
on Azamara Journey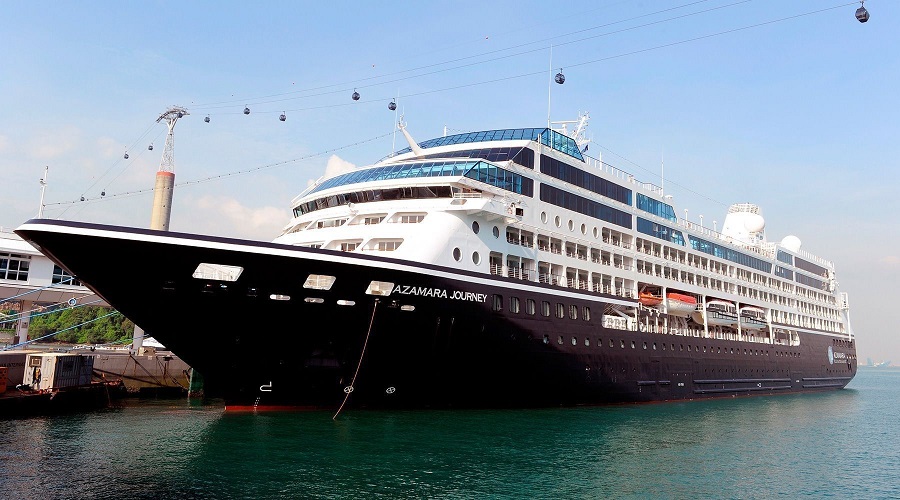 The voyage begins in Southampton, where walking tours of Old Town offer a trip through time. Then, it's a day aboard your boutique hotel at sea before arriving in Olden-a world of towering glaciers, cascading waterfalls, and deep mountain valleys.
After another day of entertainment at sea we arrive in Svolvaer to catch a glimpse of enormous whales feeding in nearby waters. Cruise the breathtaking Troll Fjord, then explore historic Narvik, a charming village dating back to the Bronze
...

Welcome.
Here at Azamara, we continue our efforts to be the world's top up-market cruise line.
As such, we are committed to providing you with unparalleled service; the finest dining at sea; a glorious spa and wellness retreat, and innovations such as Destination Immersion® experiences.
With our hallmark of stay longer, experience moreSM, we'll not only take you to awe-inspiring destinations, but also give you more time to fal
/p>
...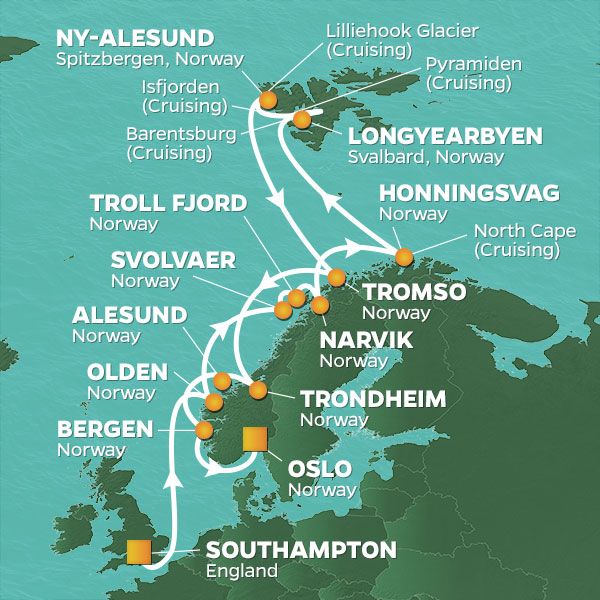 | Day | Port | Arrive | Depart |
| --- | --- | --- | --- |
| 1 | Southampton, England | | 5:00 PM |
| 2 | At Sea | | |
| 3 | At Sea | | |
| 4 | Olden, Norway | 8:00 AM | 10:00 PM |
| 5 | At Sea | | |
| 6 | Svolvaer, (Lofoten), Norway | 8:00 AM | 5:00 PM |
| 6 | Trollfjord, Norway | 8:00 PM | 10:00 PM |
| 7 | Narvik, Norway | 8:00 AM | 2:00 PM |
| 8 | Honningsvag, Norway | 1:00 PM | 9:00 PM |
| 8 | North Cape (Cruising) | 11:59 PM | 11:59 PM |
| 9 | At Sea | | |
| 10 | Isfjorden, Norway (Cruising) | 10:00 AM | 12:00 PM |
| 10 | Pyramiden, Norway (Cruising) | 12:00 PM | 1:30 PM |
| 10 | Longyearbyen, Norway | 2:30 PM | 7:30 PM |
| 10 | Barrentsburg (Cruising) | 9:30 PM | 11:00 PM |
| 11 | Ny- Alesund, Norway | 1:00 PM | 4:00 PM |
| 12 | At Sea | | |
| 13 | Tromso, Norway | 8:00 AM | 10:00 PM |
| 14 | At Sea | | |
| 15 | Trondheim, Norway | 1:00 PM | 8:00 PM |
| 16 | Alesund, Norway | 9:00 AM | 8:00 PM |
| 17 | Bergen, Norway | 8:00 AM | 10:00 PM |
| 18 | At Sea | | |
| 19 | Oslo, Norway | 7:00 AM | |